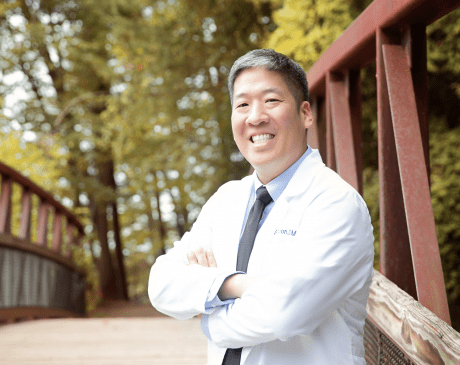 Originally from New York City, Dr. David Yoon moved his family down to the Northern Virginia area where he found a unique and great opportunity to work in the bustling and dynamic "mixing bowl" that is Springfield, Virginia.  Committed to providing ethical and compassionate care, Dr. Yoon prioritizes patient safety and advanced techniques at Springfield Dental Solutions to help ensure your smile remains healthy and beautiful. He strives to keep the practice up-to-date with the latest dental technologies to minimize discomfort while providing high quality dental care in a friendly and empathetic environment.  Dr. Yoon hopes to have an opportunity to meet with you in the future.
Outside of the office, Dr. Yoon loves to spend time with his lovely wife and their adorable daughters.  Dr. Yoon admits that he finds the most enjoyable and memorable times are when he is with his family doing the everyday routines and turning them into new surprises and adventures.  Being from NYC, Dr. Yoon appreciates meeting new and different people and striking conversations and listening to their stories.  He also enjoys trying his hand in cooking, following his NY sports team and attempting to work out and play sports when he can!
We accept most major insurance providers. Please call the office if you don't see your provider or have any questions.